Welcome to POFI-2301
Word Processing
with MS Word 2013
(offered fall and spring semesters)
Word Processing with MS Word offers you and your professor a unique opportunity to take advantage of the latest technology and techniques in distance learning. Interactive features will make your experience comparable to that of a traditional classroom student at Collin College, while providing the flexibility and convenience of online learning.
POFI-2301 Word Processing with MS Word is a totally online electronic, interactive class with a professor, students, and assignments. You will access the course through the Internet from a computer at home, work, or on campus--anytime, day or night, that you have access to the Internet. Even the Orientation information is presented through the Internet. You will not be required to come to campus, but you may elect to use the workstations in the open computer labs or the libraries when those facilities are open.
This course is designed to meet employers' expectations and for enhancing skills and profitability for students using MS Word for general, legal, or medical applications. Employers have come to expect entry-level employees to know how to use MS Word software. The course also includes information on how to prepare for the Microsoft certification exam for Word.
How do I get started?
Because your course Web site is on Blackboard, you will not have access to your course until classes begin. Once classes begin, go to CougarWeb and follow the login instructions there for accessing your Blackboard course site. Once you have Blackboard access, all communications and assignments submission must be within Blackboard for your convenience and privacy.
You should review everything in this Collin Learning Center (eLC) link, which will include a Contact Information link. Please do take advantage of the tutorials offered there. If you are an experienced online student, the material should be fairly familiar but include a few new tips and the important contact information. Be encouraged that many students take this course as their first online learning experience and do well. Your professor can be more available to you online than within a traditional class that meets on campus only at certain times.
You will be expected to check your Blackboard course often for announcements, discussions, and messages. Frequent communication between professor and student is important to your success in this course.
You should know how to access a Web site when given an address (URL) or link, use the features of your Web browser, download files, scan pages as PDF files, perform screen captures, and attach files to email or upload them as instructed in Blackboard. If you do not yet know about scanning and screen captures, you will be able to get help with those simple processes by posting your questions in Discussions in Blackboard. Collin libraries have scanners for student use, in case you find that helpful.
TEXTBOOK: Important: If you choose to delay acquiring course materials to seek a discount, understand that the academic price will be earning ZEROS for work not completed on schedule. Also, not having materials does not exempt you from completing startup assignments in Blackboard.
Benchmark Series: Levels 1 and 2 Microsoft Word 2013 (text and CD), Rutkosky, Roggenkamp and Rutkosky, 2014, EMC Paradigm Publishing Company, ISBN 978-0-76385-386-0. MS Word software is NOT included with the text and must be acquired by the student.
NOTE: If you are purchasing a used text, be certain it includes the student CD of data files; otherwise, you will need to access those from the publisher's resource center on the Web.
Below is a picture of the cover of your textbook (how it should look). The ISBN number will be on the back cover (not shown).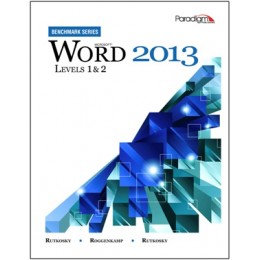 If you want to purchase a 180-day online access e-book from the publisher instead of buying the print textbook (you DO NOT NEED BOTH), the ISBN is 978-0-76385-408-9.
Software: Microsoft Word 2013. If you do not have the required software at home, you will need to complete work using Collin College workstations in open labs or libraries.
Supplies: USB portable drive for backing up assignments. (Do not delete any course work until your final course grade has been posted at the end of the term.)
SYSTEM/TECHNICAL REQUIREMENTS:
Review technical information from the Collin Learning Center (eLC) link. Click the Contact Us link at the top of that page if you have questions or need help with getting your system to work smoothly for your online course.
Course Format:
Your online classroom includes chapter notes, hands-on exercises, assessments to determine how much you learned from the exercises, theory tests covering text studies, and performance tests to monitor your readiness to use this software on a more professional basis. As a bonus, you will enjoy an excellent textbook to keep as a reference tool. The course is designed to prepare you for taking the voluntary MS Word certification exam, if you wish to earn that prestigious credential after completing the course. A schedule will guide you through course assignments. Each requirement will be listed and include instructions for submitting assignments.
Your professor will work with you through Blackboard to evaluate your assignments and to help you with questions or problems. With the exception of the few objective tests automatically scored by Blackboard, your course work will be reviewed and graded by your professor, with feedback provided through My Grades in Blackboard. Grading will include professor comments, if appropriate and/or helpful. Class discussions may be conducted electronically, as appropriate.
This class requires the use of Mozilla Firefox, Google Chrome or Microsoft Internet Explorer. If you do not have one of these browsers, you can download one from the Internet. Of course, you must complete assignments in MS Word 2013 software, which you must acquire on your own. Or, you may use any computer with MS Word 2013 software, including workstations at the CPC, SCC, or PRC open computer labs or libraries. Instructions and samples in the textbook will not match other software versions.
How do I access the POFI-2301 Word Processing class?
First, you must be officially enrolled. Once classes begin, go through CougarWeb or to http://elearning.collin.edu and follow the login instructions there for accessing your Blackboard course site. Your username should be your Cougarmail username, and your password should be the last six digits of your CWID (college-wide identification number).

Once classes begin, you will be expected to check your Blackboard Discussions and Mail often. Frequent communication between professor and student is important to your success in this course.
What is the POFI-2301 Word Processing course like?
After registering for the class and purchasing the course materials, you should:
study the Blackboard course site information

follow the schedule of assignments

study the assigned material in the textbook

complete the hands-on assignments

complete hands-on performance assessments
complete hands-on skills tests
take timed theory tests in Blackboard
YOU are responsible for scheduling your study time and completing your assignments. You are responsible for keeping up to date with the course schedule, matching the course weeks with your calendar, and keeping a record of the assignments you have submitted. You will be encouraged to communicate with other class members through the Blackboard discussion forum. Your professor is available to help you through the course through Blackboard Discussions (group) and Mail (private) features; please do not hesitate to contact your professor. Your professor acts as a facilitator to help you master the course goals.
Realize that this course requires YOUR motivation, commitment, organization, and self-discipline. YOU must supply those success factors. Effective learning results only when students become active participants in control of their learning and take the initiative to do what is necessary. Learning the skills necessary to communicate in an online course format will be a valuable bonus to you in preparing for working in high-tech offices.
POFI-2301 Word Processing is a competency-based course. You are expected to meet certain performance objectives, which are found in the course syllabus. The generic syllabus (containing objectives) is posted at http://iws.collin.edu/syllabus. Your professor's syllabus (including how you will be graded) will be posted on the Blackboard course site. Your final grade will be based upon your participation and performance. Following instructions accurately and submitting assignments in a timely manner will be important aspects of course success.
Again, welcome to the class!